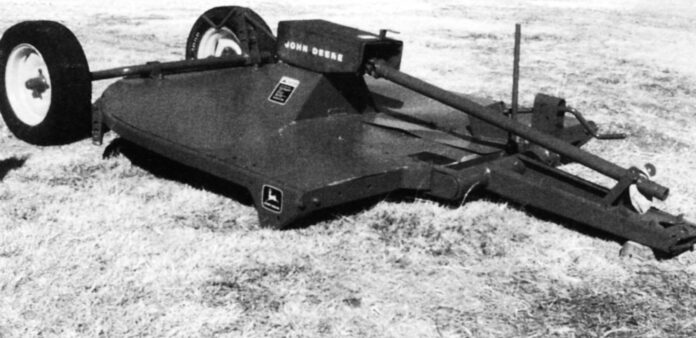 July 1996
The day my father, Bryan, brought home a John Deere 307 Gyramor was about the same as any "normal" day in my life. He had a trailer load of equipment that included the worst looking brushbeater I had ever put eyeball tracks on.
I carelessly pushed the "pile" off the end of the trailer and gave it a once over. My first thoughts were, "What good is this thing if it doesn't have hydraulic cylinder anchors?" This vintage machine had hand cranks to adjust the cutting height.
My next move almost killed the project before a wrench was turned. I casually kicked the safety shield off the clutch and stared into a gaping hole in the rear of the gearbox that was three times the size of the shaft support. The previous owner had run it several hours without oil. Disgusted at wasting time on a worthless project, I headed for the shop to find something productive to do with my time.
About a week later, I gave in to the urge to look up the price of the parts needed for repair. After digging up a microfiche for the 307, I learned that the basic machine was unchanged from 1959 to the late 1970s. The disappointment came when I found the price for a bare gearbox housing was more than $600. There were several serial number breaks, so I decided to read the number for further clarification. After scraping off several decades of grease, imagine my surprise to see 0001 stamped right after the words "serial number."
I had to sit down on the flat tire to think this one over. We all dream of owning the first 730 propane Hi-Crop or the first "L" with serial number 623001. Here I was, average Joe Farmer, sitting on the well-used tire of the very first brush beater built by Deere & Company. Previous to the 307 Gyramor series, Deere had only built sickle mowers. In my mind, it only needed MINOR repair work to be worth thousands of dollars.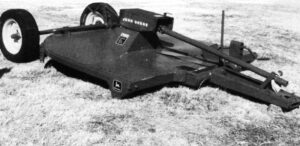 Needless to say, I ran back to the shop to check the microfiche for parts needed. After checking the serial number breaks, my 307 tripled in value. Number 0001 had several parts exclusive to itself! This meant that number 0002 and beyond were totally different. This should have tipped me off, but I was too excited to think straight. My rare and valuable 307 suddenly became a factory experimental model and it was parked on my farm, free of any debt or encumbrance (as soon as I paid my father $75 for it).
Allowing myself to daydream, I looked into the clouds and soon heard the familiar putt-putt from my 730 as I pulled 307 Gyramor number 0001 past the announcer's stand and received an ovation from my jealous peers.
I searched in vain for several weeks for a used gearbox. Rationalizing that my rare and valuable experimental model 307 was worth fixing, the decision was made to repair the mangled gearbox. As time permitted, I literally had to cut the gearbox off with a torch, as a previous owner had welded several braces to stop the oil-less box from shaking off the base. After opening the gearbox, another surprise hit me in the face. Someone had packed the gearbox with thick gun grease after the lower seal failed. What a mess! Several days and hours later, the now clean gearbox was delivered to the local tough guy welder/machinist whose business card announces in big, intimidating block letters: "I can fix anything."
Over the span of several weeks, I slaved over my treasure, doing the cutting, welding, massaging and grinding necessary to bring the 307 back to life—all the while being extremely careful to protect my precious serial number plate. It even lay upside down for several days while every piece of grass, dirt and imperfection on the "dirty" side was removed and repaired. All the while, my depleted bank account was issuing checks for shafts, bearings, clutches, joints, decals and paint. Cost was a minor detail when you own the first and rarest John Deere Gyramor!
While delivering a tractor out west, I happened upon another 307 and decided to stop and see what serial number it was (all the while feeling sorry for the owner since I owned number 0001). To my surprise, this 307 was also number 0001! I felt defrauded, rejected, demoralized and cried all the way home. After more searching, I found several more 307s with number 0001. To cap off my injury, I was able to buy another 307 (serial number 0001) with a good gearbox for $50 at a local auction.
After consulting with my father, he recalled that this was a common practice for Deere to use the same serial number on minor tools until design changes were made.
My anger swelled until I finally used the loader and dumped my unfinished project on the junk pile to rust away forever. A few weeks later, I calmed down and decided to finish my project since there was much time and money invested. The safety shield's original decals were in good shape, so the decision was made to leave it unpainted. The balance of the machine looks bright, shiny and new and should since I could have bought a new one with hydraulics for less money. (According to my grandfather, hydraulics is the invention that had the greatest impact on modern farming techniques.)
The moral of my sad story is to research a project and determine its value before turning a tap or spending a dime. By the way, if you would like to own the rarest, most valuable, experimental John Deere 307 Gyramor, I have serial number 0001 and it is for sale.
Submitted by,
Mark B. Burrell
Fairview, Oklahoma
Editor's note: Mark Burrell said he was compelled to share this experience after reading a Mr. Thinker question in the December 1995 issue. That question read: "I recently purchased a model 207 Gyramor rotary cutter. When I wiped the grease and dirt off the number plate, it said 001. Could this be the first one?" Mr. Thinker's reply: "It could be, but probably isn't. The number you refer to is the series number, not the serial number.")