This article isn't strictly John Deere but it does give comparisons to Deere's smallest self propelled combine, the model 40.
Although a few were produced earlier, self-propelled combines made their first big splash in the 1940s. Most of these combines were large and expensive for their day and usually only appealed to larger farmers and custom operators. In an effort to increase sales, some manufacturers designed combines in a size and price range affordable for those farming a quarter section or less, while others were content to stay out of that segment of the market.
To be eligible for this competition, the combine had to have either started or ended its production in the 1960s. Since Oliver, Minneapolis Moline and Ford tended to sell the same combines with different paint jobs, rather than have a three way tie somewhere in the middle, we've included three different models.
We've used three criteria to judge the size of these combines. The first is engine cubic inch displacement. While horsepower might have been a better benchmark, ratings from these engines are in many cases nearly impossible to find. The second test is cylinder width. As you will see, this varies widely in this group of combines. Grain bin or, as some prefer to call them, "tank" capacity is the third test.
9: New Holland got into the combine business later than the other companies in this contest, which perhaps was part of the reason its small combine technology suffered. The model 975 introduced in 1965 could do no better than seventh in any of the individual categories. This fact doomed it to a last place finish.
8: The Oliver 35 likely wasn't considered a small combine when it was originally designed in the 1950s. However, it was built until 1964 and at that time was the company's smallest machine. Its 244 cubic inch engine was the largest in the test, which helped drag it down to an eighth place finish.
7: The Minneapolis Moline 2890's 226 cubic inch engine and massive 62 bushel grain tank didn't even let it finish high enough to get a participation ribbon. It was seventh.
6: The Ford 611 was almost drug down by its powerful 223 cubic inch engine, but its 27.6 inch cylinder helped it to a somewhat respectable tie for fifth place.
5: Tying with the Ford for fifth place was the Case 600. Its 40 inch cylinder, which was second largest in the competition, was its downfall.
4: Before the competition, I might have guessed that the McCormick Deering 91 would have been a contender. Unfortunately, its 41.5 inch cylinder was the largest of any of the combines and it was too much to overcome. If we could have given it a bonus deduction for being the only one of our group to have steering levers rather than a steering wheel, we would have; however, competition rules didn't allow that, so the 91 ends up in fourth place.
3: Finally to the medal round, and we start with the Gleaner "E." Its 40 bushel grain tank and 27 inch cylinder made it a contender; however, its 226 cubic inch engine kept it from placing any higher. Bronze medal.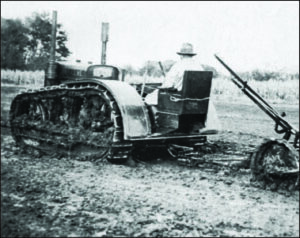 2: Our silver medalist is the John Deere model 40. Its engine, stolen from a 1010 tractor, was the smallest of the bunch and its cylinder was second narrowest.
The Massey Harris 35 ran away with the competition. Its diminutive combine score of 4 was half that of the closest competitor. In the individual categories, it ranked first in grain tank lack-of-size, first in cylinder narrowness and second in cubic inches. Gold medalist and winner by a knockout.